The following article is a summary of the key notes spoken about in Built Intelligence's most recent Quarterly Product Roadmap Webinar.
This article contains the following topics:
e-Learning Content
We've recently launched our new e-Learning course, "Leadership in Construction Project Management Fundamentals". This stemmed from the fact that some of our clients were keen to have some training that met the CIB competencies. We worked with John Hayes, the technical author for the CIOB, who delivers a lot of CIOB training.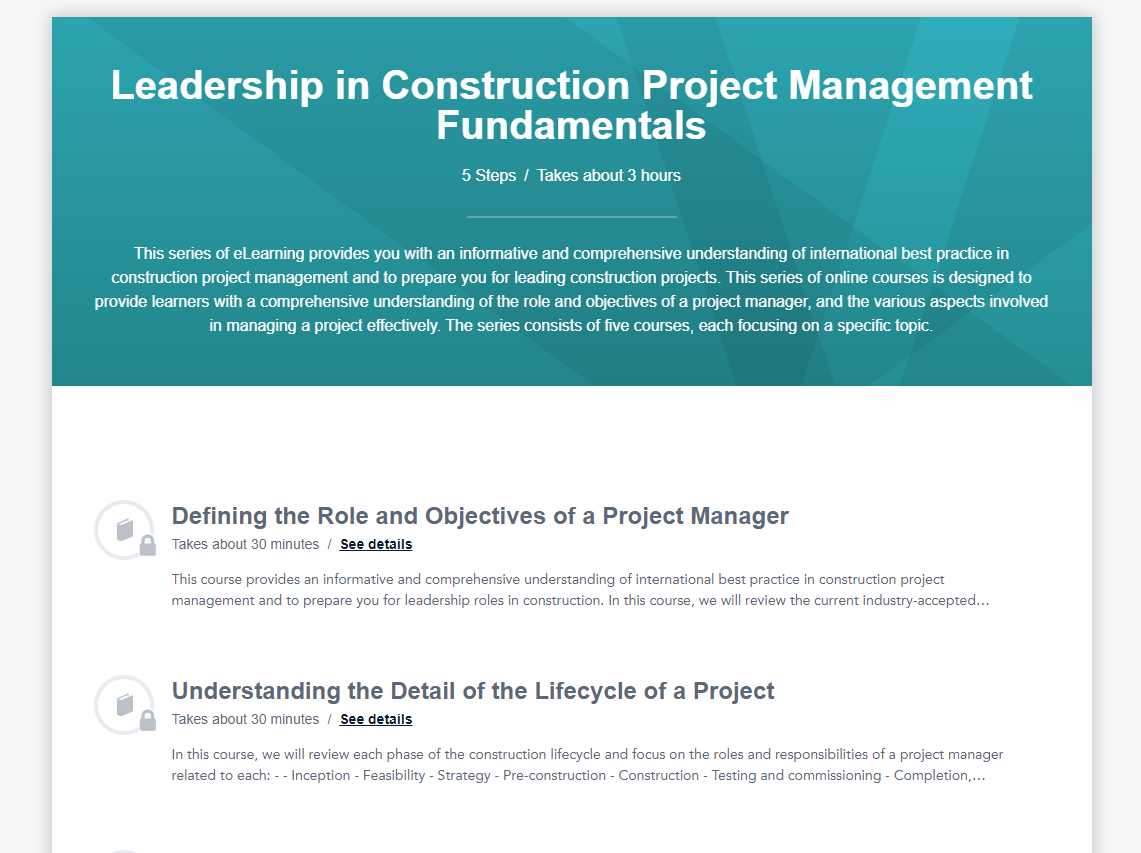 Webinars
We've got new webinars coming up, including 'Payment and the Construction Act'; this one-hour webinar will teach you to understand the Construction Act and how it regulates payment, understand Payment Applications/Notices. and to understand Payless Notices. You can register for this webinar here.
We've also been working with Susanne Madsen, a mental health expert, who is an internationally recognised project leader coach.
Competency Frameworks
We are now CITB approved, and our e-Learning is now delivered through the CITB approved content. This means that we have courses that are now eligible for the CITB grant; if you are an organisation that pays a CITB levy, you can earn while you learn. You can make your license cost with us cost-mutual, so if the budget is tight you can get your money back as a CITB grant to cover your training costs.
Academy Features
Some new Academy features that have taken place recently include:
'Insights' has been replaced with 'Analytics'; This is a useful tool, particularly for L&D teams. It offers more functionality, detail, and the ability to schedule reports to automatically land in your inbox on a regular basis.
New Mobile App; all Academy features can now be accessed via our mobile app, including the ability to adjust text size.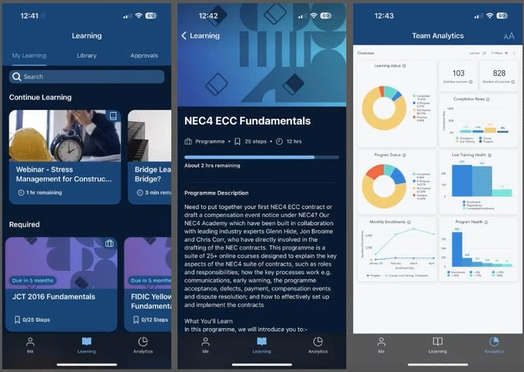 What's Under Construction?
This section contains sneak-peeks of upcoming developments that are currently being worked on.
A new Academy feature is due for release shortly that will allow users to download content on their mobile devices and view 'Offline', meaning they can complete their training while on the move.
A new e-Learning course is being worked on called "NEC4 Facilities Management Contract" - this is inspired by a recent collaboration with a client that wished to use this form of contract on FastDraft. We are working with industry expert, Neil Earnshaw.
We have recently been working in partnership with Nima (formerly known as the BIM Alliance), working with them to deliver a series of 12 panel discussion webinars, looking information management, digital people processes and technology. Some webinars that are in the works include:

How to Run an Effective Workshop
Information Management & Procurement
Capital Allowances Budget Update (with John Lovell)
NEC4 Amendments (with William Brown) - this webinar will cover the amendments to the NEC4 which includes supporting and tackling climate change and carbon footprint, facilitating early contractor involvement, and also some amendments to insurance.
FastDraft Recap
This section will look at what we have been working on in FastDraft recently. We release updates on FastDraft on a 2-4 week Sprint Cycle which you can find here.
FastDraft now supports the following new contract forms as part of our family of contracts:
NEC4

Facility Management Contract
Alliance Contract
TSSC/PSSC

NEC3
JCT

Intermediate Building Contract with contractor's design
Management Contract
MCWC/C with/without design
If you are working on any form of contract that we do not currently support, please reach out to us by contacting support@builtintelligence.com and we can look into it.
FastDraft - Points of Interest (All Users)
Custom Fields & Financial Limits
FastDraft now supports Custom Fields. As customer requirements change, for example if your contract requires extra information to be collected, within FastDraft we can now offer a variety of types of Custom Fields through different check boxes, text boxes, multiple selection, or date/text fields. These custom fields are available in company records, contracts, projects, user profiles, and workflows.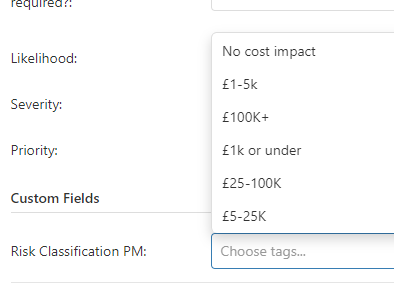 FastDraft now also supports the ability to define Financial Limits. For instance, you may have a junior member of staff, or you may have different staff gradings. Financial Limits mean that at contract level the user can only certify an event or a quote that is within their stated limit.

Last Quarter Notes
Improved Performance - this is an ongoing improvement to ensure that the platform is running as quickly as possible. All of our customers have now been moved over from Software as a service to Platform as a service, which allows resilience and scalability as the service is being used.
Improved Dashboard - the contract price widget on the dashboard is now more detailed (depending on the type of contract you are using). For our Enterprise customers this information will be pulled through on aggregate reports.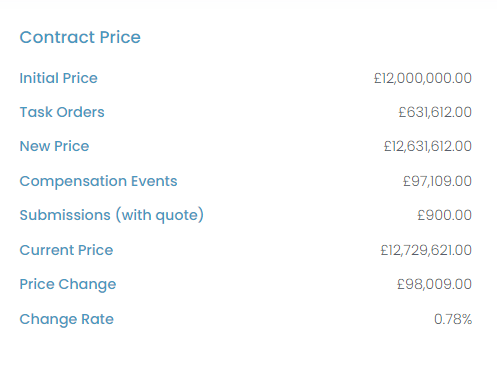 Improved Task Order Workflow - a Service Manager Request for Quote has been added.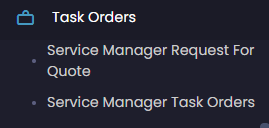 Separate Workflow group for certificates - for example; for completion, defects, or termination certificates.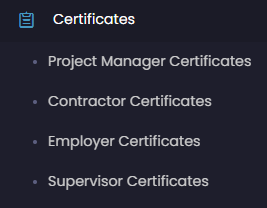 Integrations
Certain customers have requirements to integrate with other products. Some of the products that we have integrated with FastDraft include:
Asite - a document management system which allows you to associate files within FastDraft. For example, if you are raising an Instruction or a Quote you can associate the necessary files with these Instructions or quotes. These can be configured at a workspace and a contract level.
Sharepoint - similar to Asite, you can associate files within FastDraft through Sharepoint.
FastDraft - Points of Interest (Admin Users Only)
Last Quarter
Improved Navigation - Admin Users can now access admin tools via the left-hand navigation panel. This is beneficial as it means you do not have to leave the contract you are viewing in order to jump between pages.
Bulk Add User - Some of our customers wanted the ability to add users to multiple contracts. This new tool allows Admin Users to do just that via the User management in the left-hand navigation panel.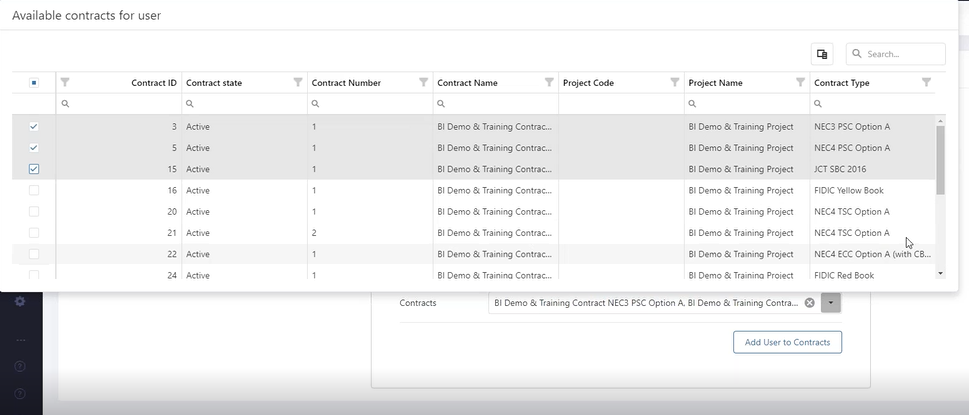 Archive Exports - This is currently only available internally but will be live soon. In the contract overview, there will be an

Export

button next to the Contract State. This schedules a zip file to be exported overnight, and will provide a spreadsheet register of workflows, a pdf of notifications, plus any attachments added to notifications. This will save you having to do it manually, and you will be able to find the export in the Downloads page under Analytics in the left-hand navigation panel.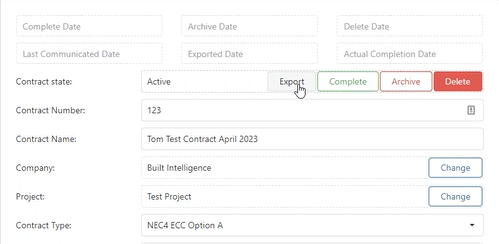 Contract status change - This new functionality offers the ability to Complete, Archive, or Delete a contract. There is also a configurable option whereby if you submit a Completion Certificate workflow this will automatically place the contract in a Completed state.
Contract ID - You can now add Contract ID as a column in the contract register.
Completion Certificate - as mentioned above, this can now be configured so that it automatically sets the status of the contract to Completed and records the actual Completion Date.
Roadmap
Looking at the near future, you can expect to see these features:
Exporting Contracts - as mentioned before this will soon be expanded for the use of Site Admins.
Generate PDFs on the fly and e-mail to dedicated e-mail address
Share button with link or with PDF copy of the notice via your own e-mail app (Enterprise only)
Enhanced action reminders:

Scheduled Tasks - Payment Applications/Certificates/Programme Submissions etc.
Actions arising from instructions
Manually assigned actions
Support mutual agreement to extend deadlines (currently only supported for Compensation Events)

Making it easier to apply bulk configuration changes to multiple contracts i.e. Completion Certificate
Power BI App
Over the last few months we have been working on embedding Power BI within FastDraft. Power BI, in essence, is:
Prebuilt set of reports embedding into FastDraft
Charts are dynamically adjusted so that users can only see data they are entitled to see
Comprehensive filtering capabilities
Ability to connect to our reporting APIs to build your own reports and embed them back into FastDraft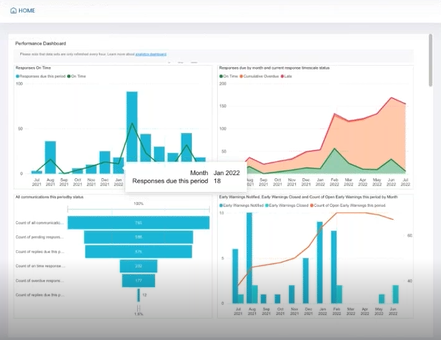 Video Recording