This article is a guide to Analytics Dashboards on FastDraft.
This guide contains the following:
A dashboard is a single page that tells a story using visualisations across all of your contracts and projects. Because it is limited to a single page, a well-designed dashboard includes only the story's most essential elements.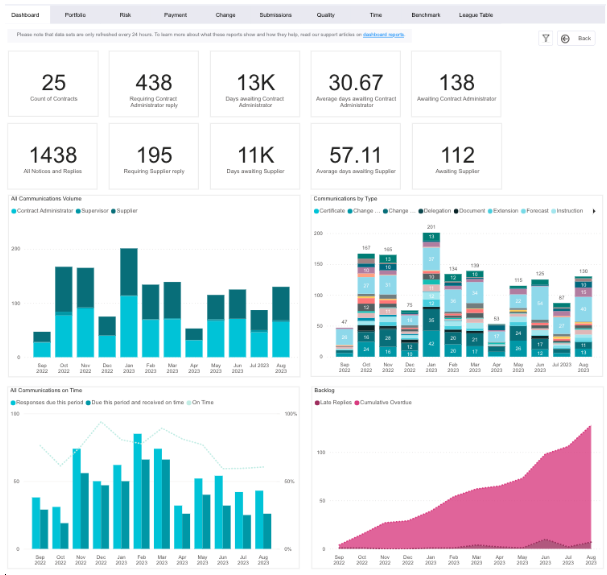 The visualisations you see on the dashboard are called tiles and are pinned to the dashboard by report designers. Selecting a tile typically leads to the report page or drilldown register where the visualisation was created.
One way to think of a dashboard is as an entryway into the underlying reports. Selecting a visualisation allows you to drilldown to the information used to create it. The visualisations on a dashboard come from reports, and each report is based on a dataset.
Advantages of Dashboards
Dashboards are a fantastic way to monitor your project, search for answers, and view crucial metrics at a glance. The visualisations may be derived from one or multiple underlying datasets and reports, combining on-premises and cloud data to provide a consolidated view, regardless of where the data resides.
A dashboard isn't just a pretty picture; it's interactive, and the tiles update as the underlying data changes and/or as different filters are applied.
Dashboards versus reports for report designers [Draft]
The way you interact with Power BI will depend on your job role. As a consumer or business user, you are the person who receives content (dashboards, reports, and apps) from creator colleagues. Reports are often confused with dashboards since they are also canvases filled with visualisations. But there are some significant differences from a Power BI business user point of view.
Capability

Dashboards

Reports

Pages

One page

One or more pages

Ask a question about your data

 (Power BI Q&A) field at top

almost always

no

Data sources

One or more reports and one or more datasets per dashboard

A single dataset per report

Filtering

Can't filter or slice

Many different ways to filter, highlight, and slice

Set alerts

Can create alerts to email you when certain conditions are met

No

Featured

Can set one dashboard as your "featured" dashboard

Cannot create a featured report

Can see underlying dataset tables and fields

No. Can export data but can't see tables and fields in the dashboard itself.

Yes. Can see dataset tables and fields and values.
View data insights on dashboard tiles with Power BI [Draft]
Each visual tile on your dashboard is a gateway into data exploration. When you select a tile, it opens a report or a question-and-answer section where you can filter, sort, and explore the dataset underlying the report. Moreover, when you run insights, Power BI explores data for you.
Insights can be run on a specific dashboard tile, and you can even run insights on an insight! When you run insights on tiles, Power BI looks at the data used to render that tile. If Power BI finds interesting facts or trends in that data, you'll be presented with those facts or trends in the form of interactive visuals.
The insights feature is built on a growing set of advanced analytical algorithms developed in conjunction with Microsoft Research, which we'll continue to use to allow you to find insights in your data in new and intuitive ways. The dashboard insights feature is similar to the dataset quick insights feature.