This article is a guide to getting started with our Analytics Dashboards, Reports and Registers on FastDraft.
This guide contains the following:
You can enable our Power BI analytics suite by speaking with our customer success team or your account manager. Once enabled, you will find all of your Power BI reports in the Analytics section of the side menu.
Our Performance Dashboard for Power BI is described in detail here. The primary objective of our dashboard is to interpret the story quickly. User interactions are constrained by audience-specific insights that we have meticulously curated. Dashboards aid in answering questions like "How are we doing?"
An analytical report is the most common type of report, and it can serve a variety of user needs by providing a structured space for analysis. The primary objective of an analytical report is to facilitate the discovery of answers to various questions by end users through interaction with the report and its visuals. The reports you see and have access to on the Reports page depend on your subscription plan and the enabled features (for example, custom fields, and integrations).
The primary objective of an operational registers is to provide a common format day to day operational tasks of project teams that can easily to be exported or printed.
The available reports and registers are listed here by plan and report category (including reports that are on the Performance Dashboard). Click the links in each report for more information.
Navigating between report pages
To discover answers to a broad array of questions by interacting, open the Power BI Reports in the left-hand navigation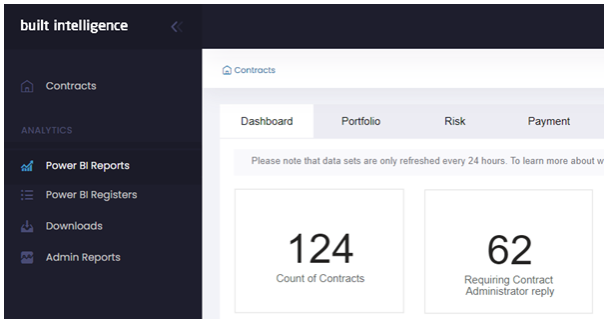 Content is organised within the context of an instance and arranged in themes. To focus on different a particular theme, simply click on one of the grey tabs along the top of the page.
Using drill down in reports and dashboards
You can drill down to reveal more information when a visual has a hierarchy. For instance, you may have a visualisation that categorises all communication counts by workflow, contract, and area hierarchy. By default, the visual would display the total communications across all workflows, contracts, areas, etc. However, because it has a hierarchy, selecting one of the visual elements (such as a bar or a line) will allow you to drill through to more detail on that particular datapoint.
Dates represent a distinct type of hierarchy. A typical date hierarchy includes year, quarter, month, and day. Where a visual includes a breakdown by month, for example, you can drill through to data for a particular month.
Drill through isn't available on every visual but where it is available you can see that option by hovering over a particular datapoint or by left-clicking a particular datapoint or by right-clicking a particular datapoint.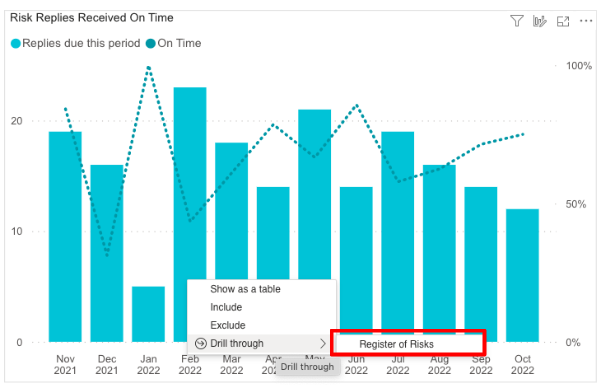 You may also wish to drilldown into data by exploring your data by workflows using the navigation tabs, benchmark report and league table report.
Lastly there are also other ways to access the underlying data. You can Export data, as explained here, or use Show as a table to view behind the scenes. Each time you drill or expand, Show as a table displays the data being used to build the visual. This may help you understand how hierarchies, drill down and expand work together to create visuals.
In the upper-right corner, select More actions (...), and then select Show as a table or Export.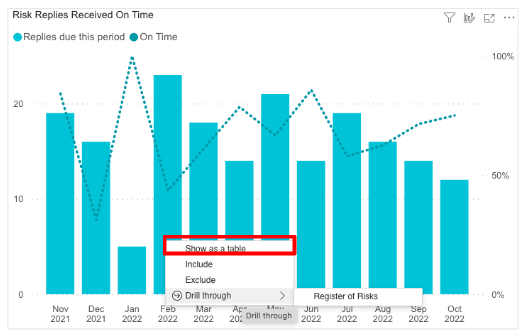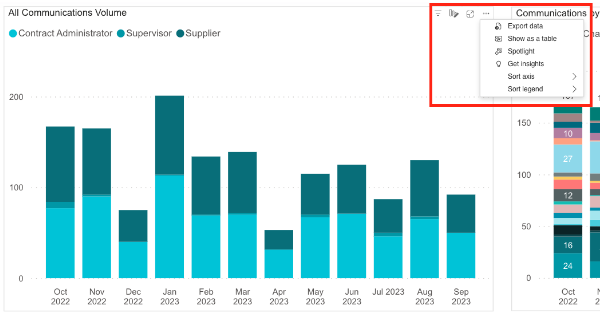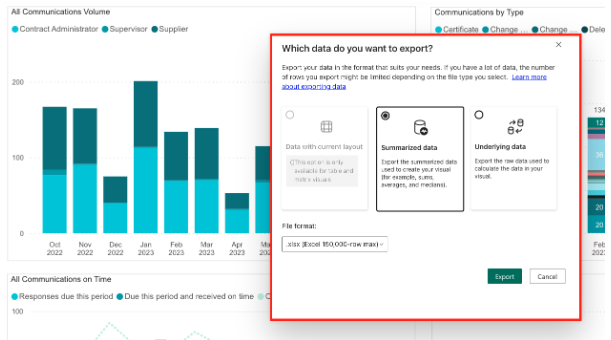 Filtering individual reports and dashboards
To get a closer look at the filters affecting a specific visual, hover over the visual to reveal the filter icon Screenshot of the Filter icon.

Select that filter icon to see a pop-up with all the filters, slicers, and so on, affecting that visual. The filters on the pop-up include the same filters displayed on the Filters pane, plus any additional pre-filtering affecting the selected visual.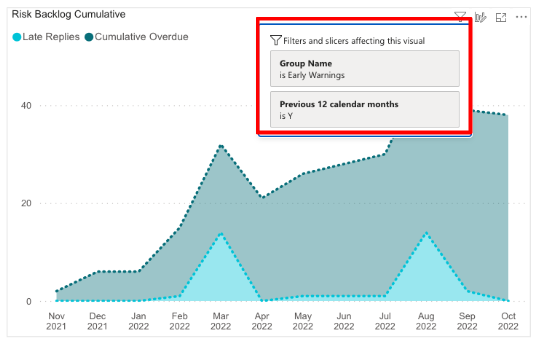 Here are the types of filters this view can display:
Basic filters
Slicers
Cross-highlighting
Cross-filtering
Advanced filters
Top N filters
Relative Date filters
Sync-slicers
Include/Exclude filters
Filters passed through a URL
Globally Filtering all reports and dashboards
You can also apply filters across all visuals using the filter panel at the top right of the report page.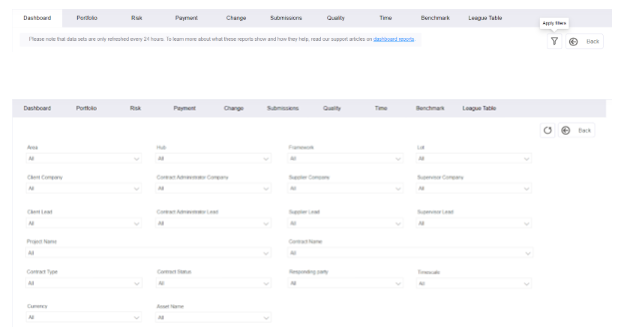 Select whatever filters you wish to apply.
Filters you apply here will apply to all report pages unless and until you clear them or you navigate away from the embedded Power BI reports pages. Currently, it's not possible for you to save filters but we're hoping to make that available in a future release.
To reset filters simply return to the Filters page and click the 'Clear All Filters' button.

Exporting my data from reports
To see the data that's used to create a visual and export it to Excel,:-
Select from the upper right corner of the tile, and open the More options (...) 
Select "export data",
If the option is available, choose between underlying data or summarised data,
If you have permission to export data, you can see the menu option and export the data that Power BI uses to create a visualisation. If you need permission to export the data, please speak to our customer success team or your system administrator. Often, data is confidential or limited to specific users. 
Please note some limitations existing with data export, notably:-
When exporting data to Excel, the download speed of the generated workbook can vary depending on network bandwidth.
The maximum number of rows that Power BI Desktop and Power BI service can export to a .csv file is 30,000.
The maximum number of rows the applications can export to a .xlsx file is 150,000. Depending on query limits and visual types, the actual number may be lower than 150,000.
Export using Underlying data won't work if an administrator or report designer has disabled this feature.
Customising reports (sorting and customising visuals)
You can change how a visual looks by sorting it by different data fields and using the Personalize this visual feature.
Sorting
Power BI provides lots of flexibility for sorting and quick menus for you to use. By changing how you sort a visual, you can highlight the information you want to convey. You can sort your visuals as desired by using numeric data (such as sales figures) or text data (such as state names).
To get started, open any report that has been shared with you. Select a visual (that can be sorted) and choose More actions (...). There are three options for sorting: Sort descending, Sort ascending, and Sort by.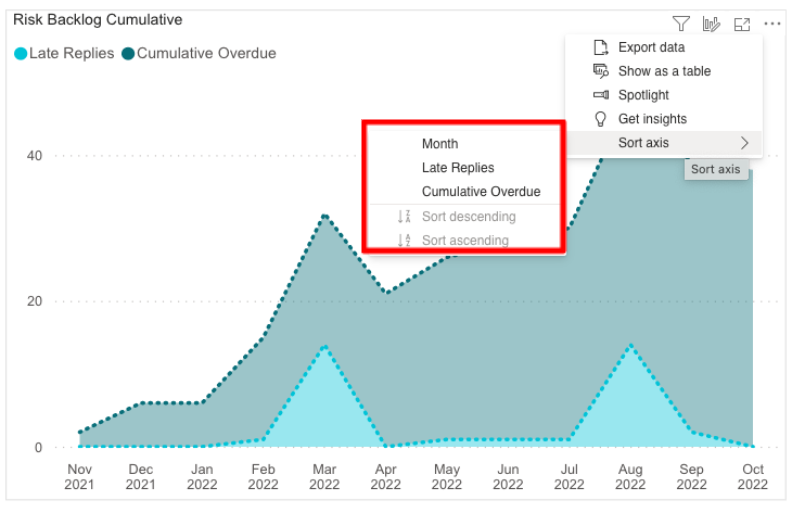 Sort alphabetically or numerically
Visuals can be sorted alphabetically by the names of the categories in the visual or by the numeric values of each category. For example, this chart is sorted numerically by the X-axis category Months by default but could be changed to Late Replies.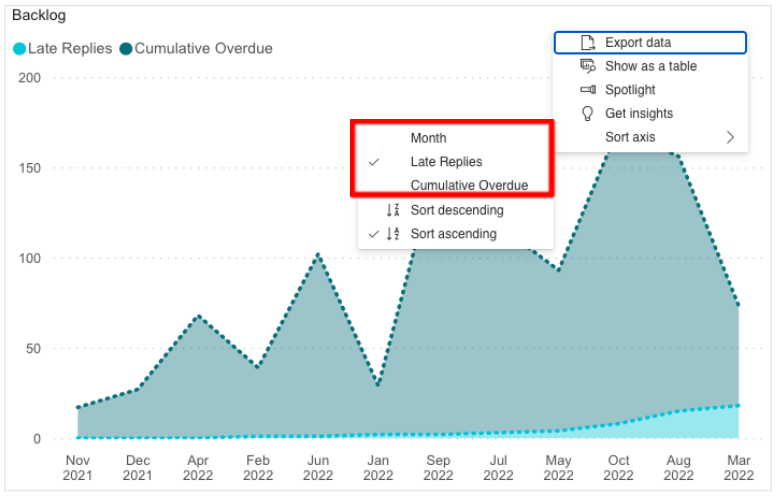 Select More actions (...) and choose Sort by your chosen field to change the sort from alphabetically to a value.
If necessary, change the sort order between ascending and descending. Select More actions (...) again and choose Sort descending or Sort ascending.
Personalise visuals in a report
It's hard to make one visual that satisfies everyone's requirements. But, when a colleague shares a report with you, you may want to make changes to the visuals without asking your colleague to make the changes for you.
Maybe you'd like to swap what's on the axis, change the visual type, or add something to the tooltip.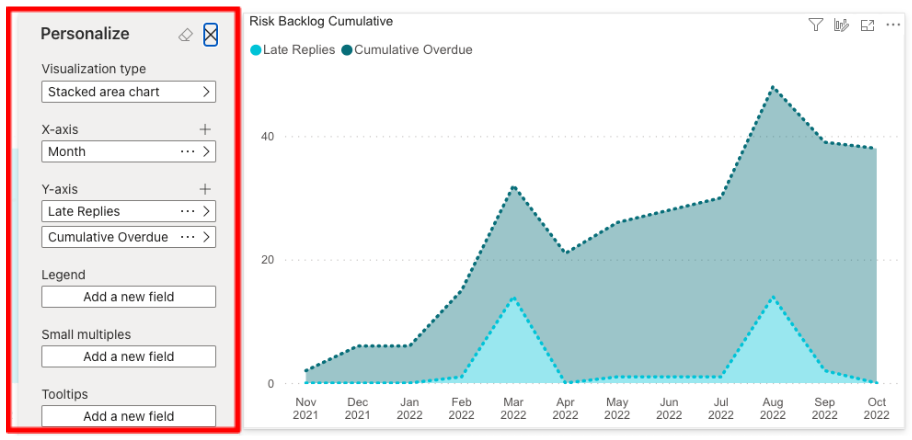 This feature helps you gain further insights through ad-hoc exploration of visuals on a Power BI report. Here are some of the modifications that you can make. The available options vary by visual type.
Change the visualisation type
Swap out a measure or dimension
Add or remove a legend
Compare two or more measures
Change aggregations, etc.
Not only does this feature allow for new exploration capabilities. It also includes ways for you to capture and share your changes:
Capture your changes
Share your changes
Reset all your changes for a report
Reset all your changes for a visual
Clear out your recent changes
Unfortunately, it's not possible for you to save personalisation but we're hoping to make that available in a future release.
Display content in more detail - focus mode
Focus mode is available for dashboards tiles and report visuals. Focus mode lets you expand (pop out) a visual or tile to see more detail. Maybe you have a dashboard or report that is a little crowded, and you want to zoom in on only one visual. This is a perfect use of focus mode.
To open a dashboard tile in focus mode,:-
Hover over a dashboard tile or report visual, select More Options (...),
To open a report visual in focus mode, hover over the visual and select the focus mode icon and
Leave focus mode and return to the dashboard or report by selecting either Exit focus mode or Back to report (in the upper left corner of the visual).