This article is a guide to linking Task Orders with Requests For Quote.
This guide contains the following:
Related articles:
Introduction
In a TSC contract it is often necessary for additional elements of work to be required that are linked or incidental to the rest of the service and better to be carried out by the same contractor.
The Task Order procedures are not designed to be used for very simple, reactive or emergency tasks, they are intended to be used for tasks that have a degree of complexity and/or risk that requires planning and management to ensure a successful outcome.
A Task is defined as "...work within the service which the Service Manager may instruct the Contractor to carry out within a stated period of time.".
How to Create a Related Task Order
FastDraft now supports optional additional processes for Task Orders (Term Service Contracts) and Service Orders (Facilities Management Contracts):
Terms and conditions do not always require a quotation process, consequently these new processes are optional. That means that even when the process is enabled for a particular contract, where appropriate, the Service Manager can still opt to issue a Task Order/Service Order without having to request a quotation first.
The process is very similar to quoting for a proposed instruction under the Compensation Event flow with one very important exception: Acceptance of a quote does not constitute a Task Order/Service Order. If a quote is requested and accepted, a separate Task Order/Service Order will always be required. FastDraft facilitates this by providing the option to notify an order at the same time as accepting the quote, in which case the order will be pre-populated* with the information captured in the accepted quotation.

If the Service Manager selects Send Reply & Create Associated Task Order, they will automatically be taken to a new page, whereby they will see a pre-populated Draft notice of a Task Order. This draft Task Order is non-editable, so you will not be able to change the task description or delay damages.
The same effect can be seen by selecting Create Associated Service Manager Task Orders once the reply has been communicated.

How to Link Task Orders with Request For Quote
When you create an Associated Service Manager Task Order directly from a Request For Quote, the two notices will automatically be linked. However, if you want to link a Task Order and a Request For Quote that were created independently of each other, follow the steps below:
Either before or after a Task Order has been communicated, select the

Relations

tab.


From the pop-up, select

Task Orders

, then

Service Manager Request For Quote

, then on the right-hand side select the Request For Quote you wish to relate to this Task Order.


You will now see that the Request For Quote you selected is listed under

Related Communications

, and that next to

Relations

there is a pop-up number in blue of how many related workflows this Task Order has.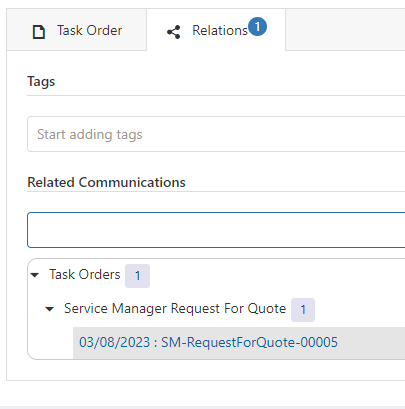 Back in the Task Order register, you can use the

Column Chooser

to add a column that displays any related workflows for each Task Order. You can drag and drop this column to customise your register view.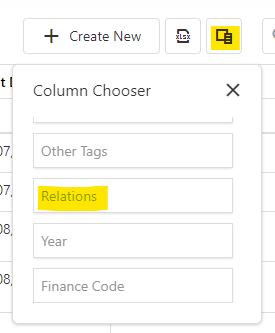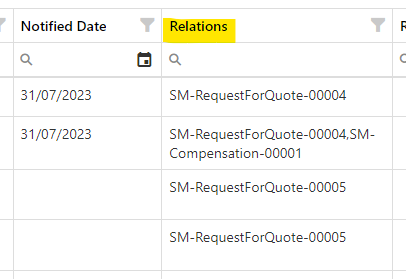 For further information on Relating notifications please refer to https://support.builtintelligence.com/hc/en-gb/articles/360020230877-How-to-link-associated-or-related-Notices