In this article we explain the following:-
How to issue a Payment Application
Payment Applications will be submitted at the interval stated within contract data part 1. The Application should make it clear what is being applied for and why.
Creating a Payment Application
A full Application will always be in quite a lot of detail, so the intent within the Contract Management Platform is to complete a high level summary for the system, but the full Application in detail will be added as an attachment. Therefore, with this form it is mandatory to include an attachment before submitting. The Contractor can submit a new one by using the "Create New" button. There is then the requirement to complete:
Assessment Date– date up until which the assessment is accounting for
Summary– brief summary in words as to what the more detailed attached application is showing
Price for Work Done to Date– it then requires Contractor to state Price for Work Done to Date
Less amount due in the last Payment Certificate , once this is added it will then calculate the amount being claimed for in the given period.
Once created, it is mandatory to attach a full Application which is only summarised in this communication. The draft can be reviewed and amended as necessary – make sure you press "save changes" to save the changes. Any attachment should be added by using the "attachment tab" and then the form can be issued by pressing "Communicate Payment Certificate".
The Project Manager does not accept/reject the Application itself – they create a Payment Certificate to confirm what payment they will certify.
Training Video: How to create an Application for Payment:
How to issue a Payment Certificate
The Project Manager needs to clearly communicate how they have assessed the Contractor's Payment Application and what they are certifying. The assessment will include plus/minus other amounts as relevant, such as retention, delay damages, bonuses and KPI's.
They confirm the assessment date, before producing a summary of their Application – on the basis that they will be attaching the full assessment. There is a requirement for the following details:
Price for Work Done to Date– overall Prices to date that would be due
Plus other amounts– any other amounts they are entitled to be paid e.g. KPI's, bonus for early Completion. This should be calculated as a lump sum price to be added
Less amounts to be paid– amounts that should be contractually withheld e.g. retention, delay damages (if they are already exceeding Completion Date). This should be calculated as a lump sum number to be withheld
Less amount paid in last payment certificate –the form is working out cumulative cost but then you need to deduct here what the last payment certificate was to see what this month's amount should be
Tax law requires Employer to pay– adjustment for tax if relevant
Certified for payment– automatically calculated from all of the above
The Project Manager can then create the Payment Certificate as a draft. This can be checked (and amended if necessary) but remember to press "save" if the form is amended. Attachments can then be added before the Payment Certificate is communicated and appears on the Project Manager's Payment Certificate Register.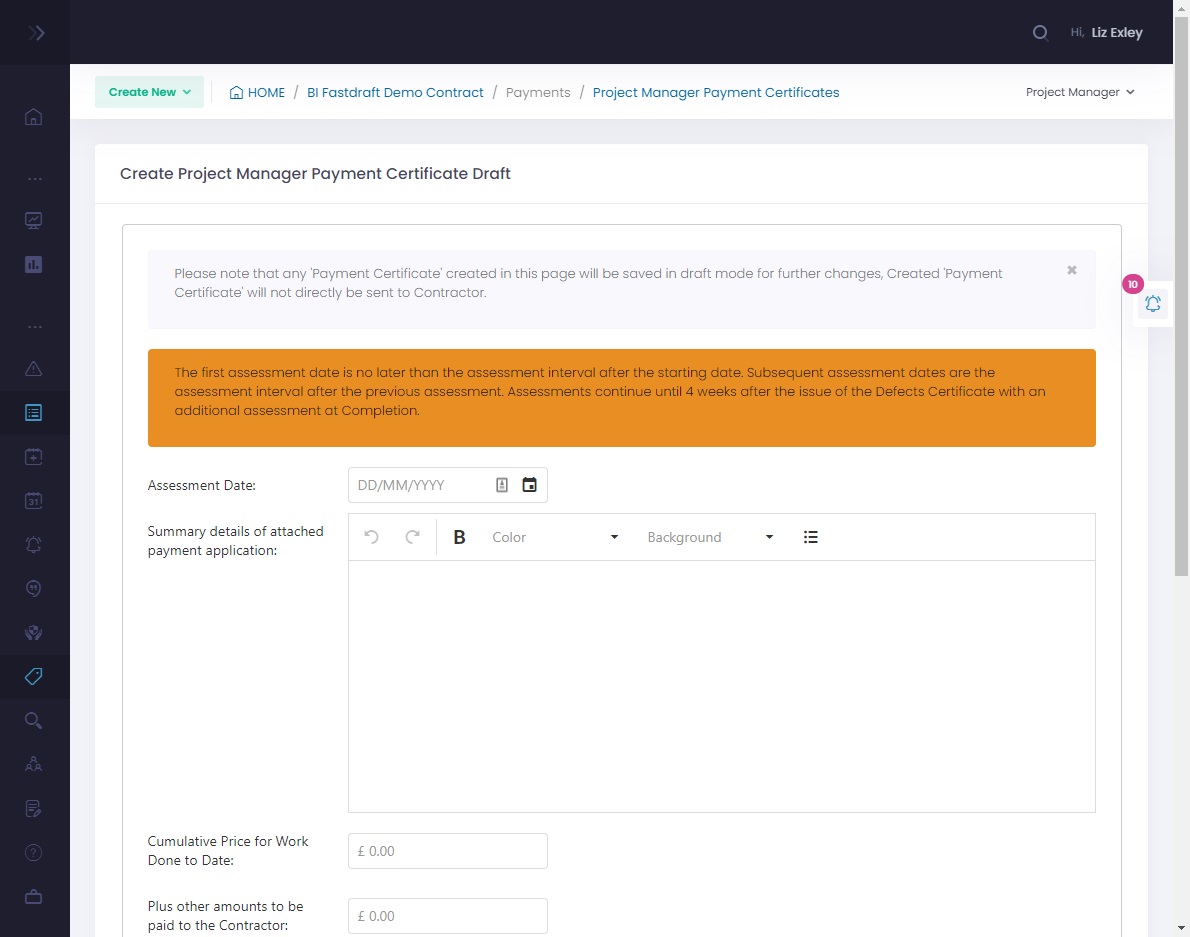 The Project Manager can create a Payment Certificate by clicking on "Payment Certificate" from the green "Create New" dropdown button at the top of the page or by selecting the "Create New" button on the Payment Certificate module.
Applications for Payment and Payment Certificates can now be configured to optionally include Purchase Order number. The form will be pre-populated with the PO number captured at contract level, where applicable, but can be overtyped with a different PO if necessary

Training Video: How to create a Payment Certificate: