We are excited to announce major update to FastDraft. In this update we explains the following points:-
Related articles
Improved Navigation
We have made a conscious effort to keep the layout of key components in the platform broadly unchanged. Navigation to Workflows and Reports remains in the left-hand navigation panel. The Reminders notifications panel remains on the right-hand side of the screen. The Create New action button, Preferences and Admin panel settings remain accessible from the top of the screen. A number of subtle improvements have also been added, so that the system is more intuitive, and new features can be added whilst maintaining a simple and clean user experience.
Improved Customer Support Portal and Widget
We have now moved the on screen chat/support widget from the bottom right-hand corner, where occasionally it overlaid contract forms, to the main navigation panel on the left so that it doesn't overlay information on screen. It can also be configured for enterprise clients so users are directed to their Support Team. We also have over 150 additional support articles. For more details see the article How to get product support and help.
Improved My Contracts Page
When you sign in you are presented with a list of all the contracts you are assigned to, with an improved set of searching and filtering tools. These improved searching and filtering tools are now available on all Registers.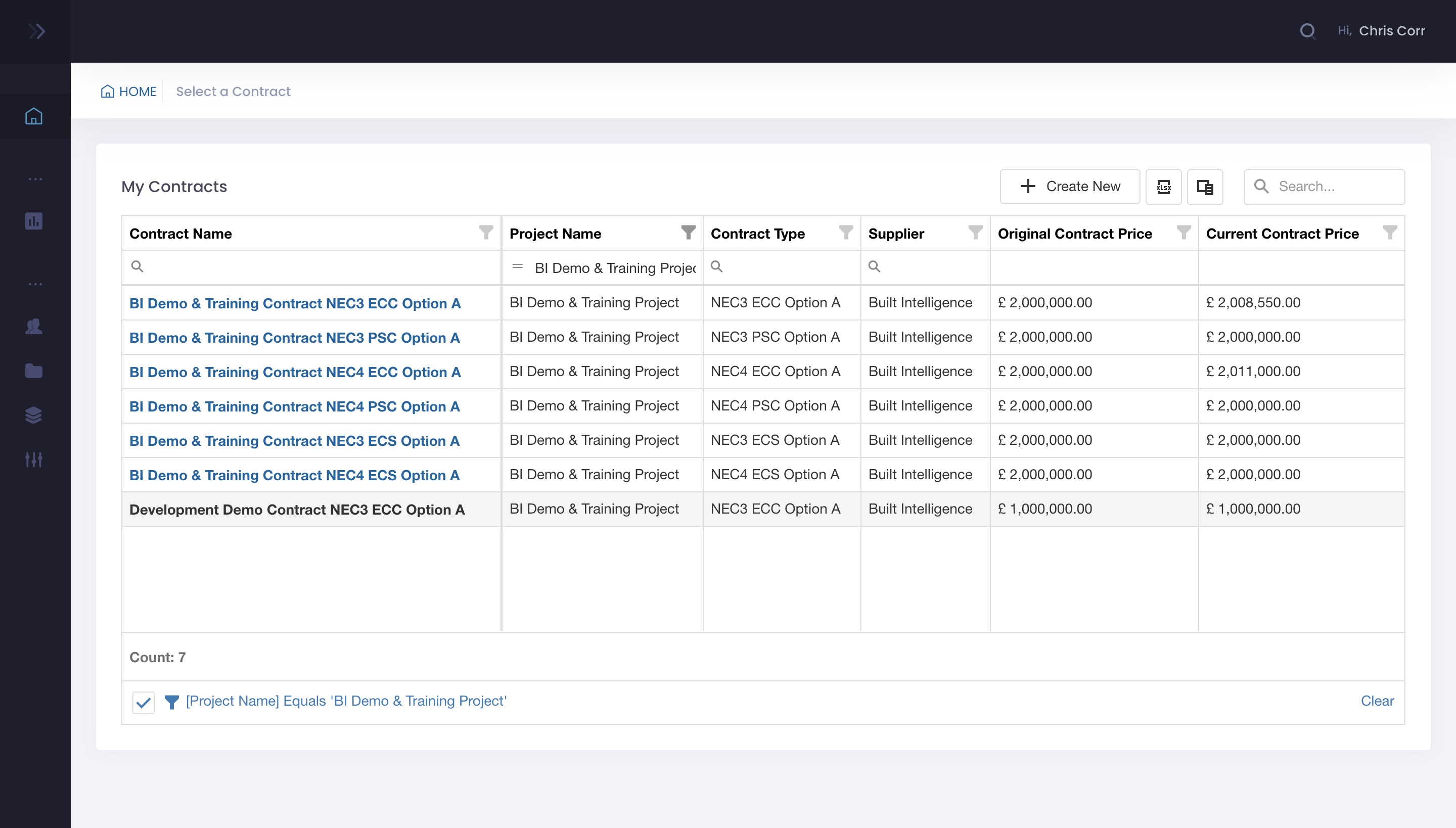 New search and filtering tools in all registers
You can now search across all contracts, all Registers, and individual data fields, with the search icon under the data field columns or the search button on the top right across the whole Register.

Choose the filter symbol to filter data columns by more criteria. Each column has a filter icon and can also be ordered (ascending or descending order) by clicking the column.

To clear the filter Choose Select All.

At the bottom of the screen, you can also create your own bespoke filter for more complex searches by clicking on filter icon. You can be more specific about what contract(s) you want to view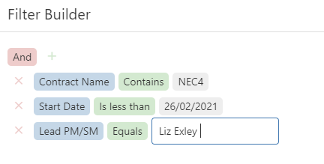 Once created, it will be displayed at the bottom of the screen. You can select or deselect it. For more details see the article Using the Dashboards and Registers.
New Configurable Registers
There is a new column chooser function that exists on all Registers which allows you can choose what available data fields to display on your register which again can be used to search, filter and sort your contracts.

By hovering over the icon, a drop down is displayed with any extra information that could be displayed.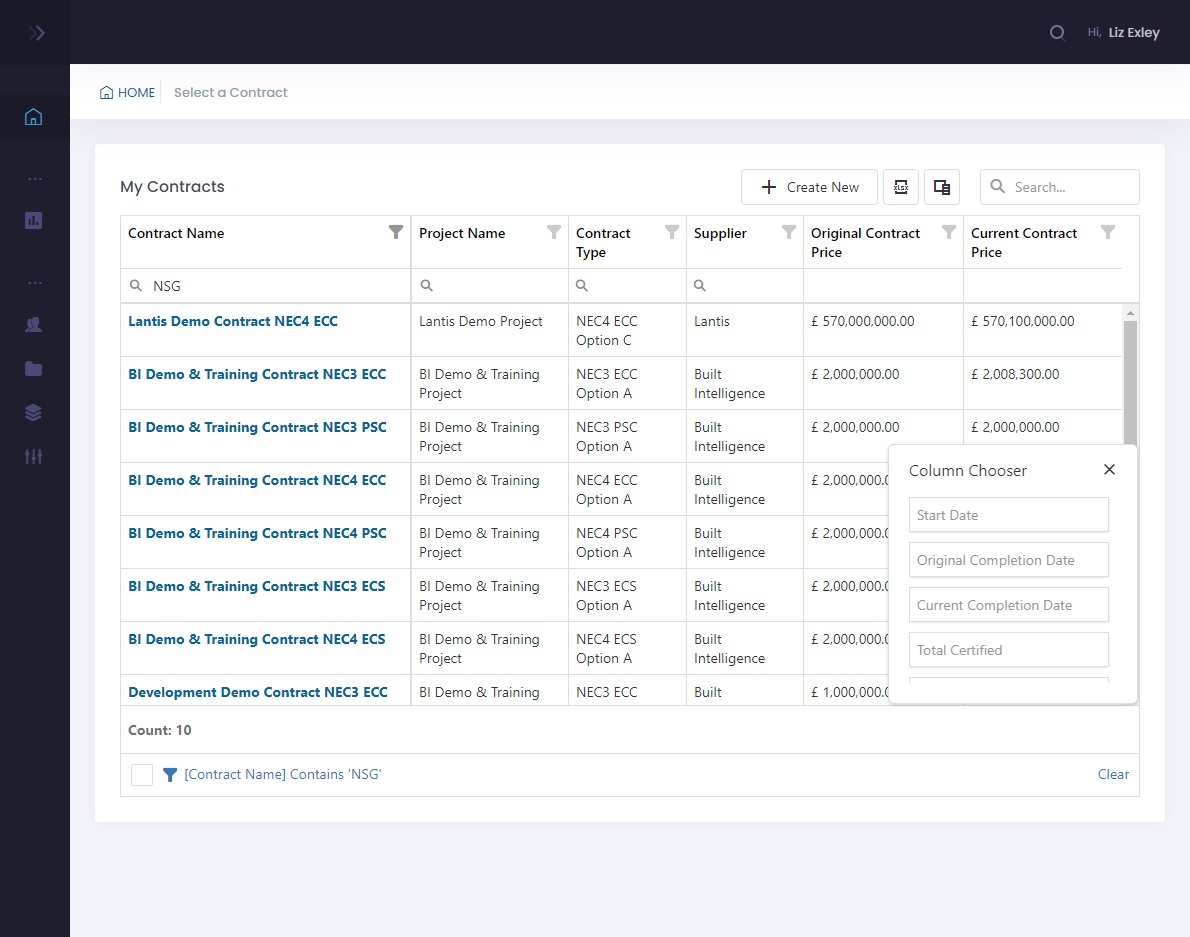 Simply click and drag on the information required (one at a time), and drag to where you want to position it on the Register. If there is no available data, the selection box will be empty. If there is information that you don't need, click on the column chooser icon to open, then click on the column heading you wish to remove and drag it into the column chooser box.
You can still export the data into a spreadsheet. This is the icon to the left of the column chooser.
For more details see the article Using the Dashboards and Registers.
New Improved Contract Dashboard
Clicking on one of your contracts will take you to your new improved contract Dashboard.
Like before on the left-hand side are the Workflow Groups and Analytics. They can be viewed by hovering over the navigation panel and they are collapsible to view more of the dashboard. If you click on the expand icon on the top left hand side, the navigation panel will remain pinned open until you select one of the options. The Home icon at the top left will return you to your list of contracts.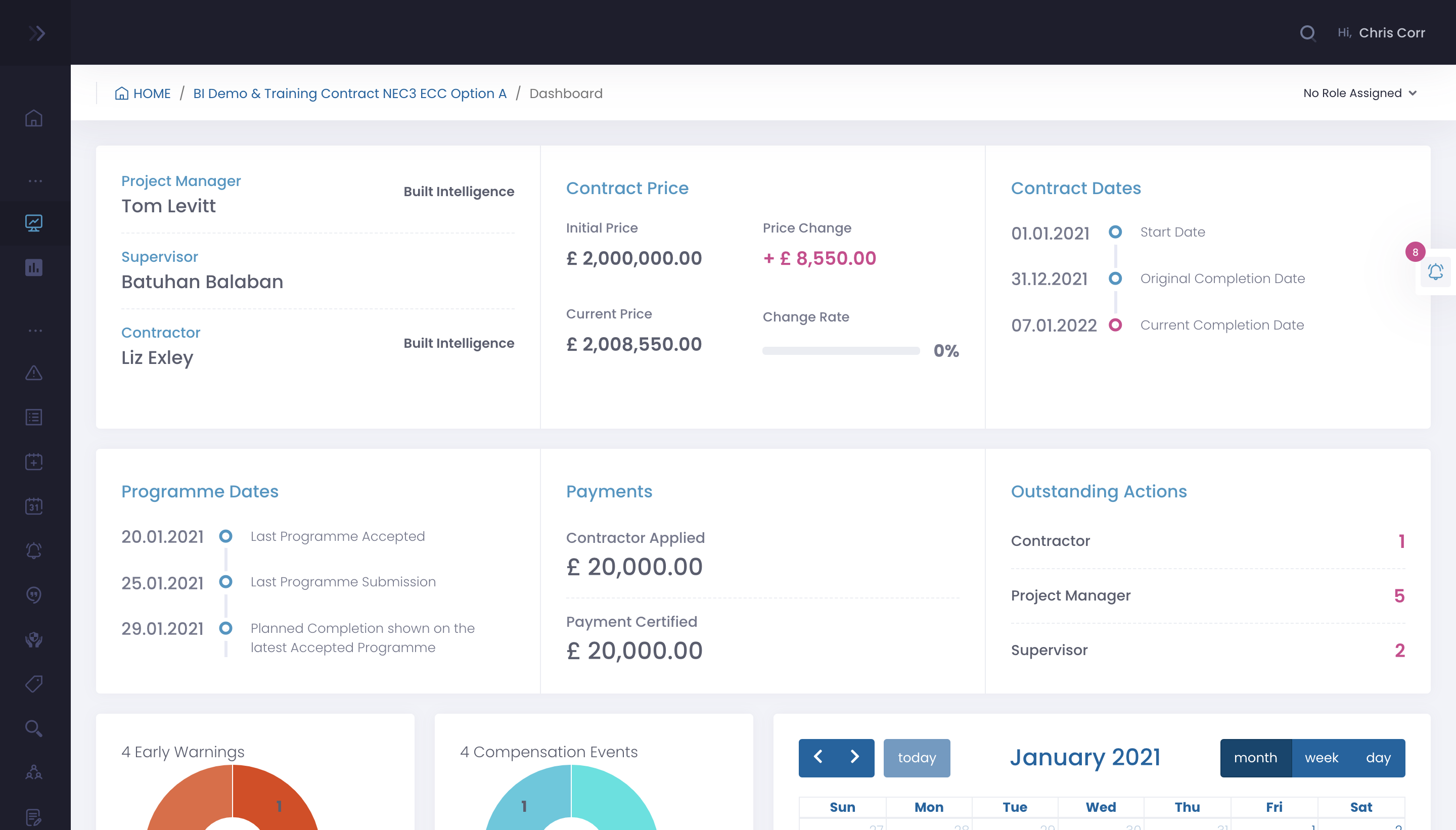 The layout of the Dashboard has been improved but still shows the same key metrics and information. There is now the following additional metrics and widgets:-
New Programme status and metrics
New Calendar view which displays action due dates
New outstanding actions
Improved CE and Early Warning Charts
Improved Reminder RAG Notifications Panel
The notifications panel now shows draft notices awaiting approvals and allow managers to easily find them. For more details see the article Using RAG Notifications Panel.
New Profile Page with emails preferences
The preference page now allows users to control email notifications. If you click on your name on the top right of the screen - on every screen – you can choose to stop receiving contract emails from all your assigned contracts. Please note - named individuals on contracts will still receive emails unless turned off by an admin. For more details see the article Editing your FastDraft profile (new feature).

Improved Attachments function
The attachment function on all notices has been improved, so that attachments can be removed from the notification when it is in draft mode, if it has been added accidently. Once communicated, no changes can be made (as before). Users will also now see progress status as large attachments load, to let the user know how long they need to wait.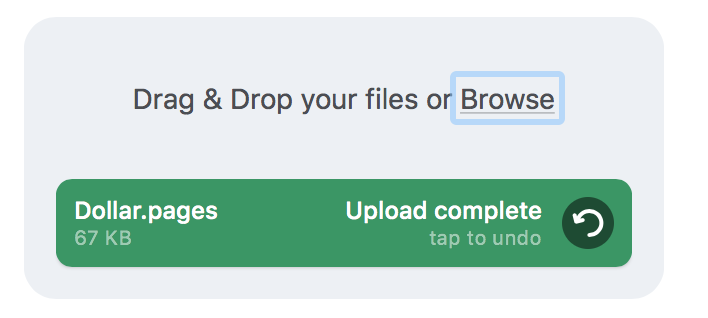 Improved Notification Email
The email notifications now includes information about what type of notification it is, and for which contract with a link that will take you directly to the notification on FastDraft.
New Contract User Register visible to contract teams
Users assigned to a contract can now see all users who have access to the contract and the permissions that they have on the contract. This is accessible under the main navigation panel and under contract settings. For more details see the article, Managing contract users.

New Aggregated Reporting Engine
A new Aggregated reporting tool provides aggregated data sets for each workflow across either all contracts, if you have System Admin or Super User permissions, or all contracts each end user can access. The Aggregated reporting tool supports the following data sets:-
Early Warnings Notices
Compensation Notices
Quotations
Programme
Issues for Acceptance or Submissions
Extension requests for each Party
Payment Application
Payment Certificates
Instructions for each Party
Notifications for each Party
Defects for each Party
Delegated Actions for each Party
Test and Inspections
RFI and TQs
Weather
Meetings
Site Diary
Task Orders (TSC only)
Each dataset contains almost all of the data associated with an API endpoint or workflow allowing a very high degree of flexibility in third party tools like excel or Power BI. For more details see the article Using Aggregated Reports.
New Admin Tool - Smart Links custom url menu items
This new features allow admins to easily customise menu items into the main navigation panel for their Support Team.
New Admin Tool - migration toolkit for importing historic notices
This new feature allows admins to easily migrate existing contract notices into our Contract Management Platform from either a paper based system, spreadsheet based systems or from an external system such as CEMAR, Sypor, Aconex, Conject or Asite, using predefined templates. For more details see the article Migrating existing contract notices into our platform.
New Admin Tool - Configurable Contract Templates
This new features allow admins to easily customise default contract templates for common amendments to standard contract forms like NEC, JCT and FIDIC and also support spoken contract conditions. For more details see the article Updating Contract Templates.
Improved Contract Templates and Miscellaneous bug fixes
We have also made a number of minor improvements to contract workflows, contract templates and contract dropdown menus across most workflows. For more details see these articles:- Quick Reference Clause Guide