In this article we explain:-
Introduction
Under a construction contract there is likely to be lots of notices that are exchanged between the parties. Our platform provides pre configured workflows that link notices together where it happens systematically, but users may also need to group related notices for more adhoc reasons, such as a weather events, claim, disputes, lessons learnt, etc. For example you might wish to link several notices around at event such as a fire on site, COVID or flooding, etc. such that you have a virtual dossier of all the notices relate to this event.
Our related notices function allows you to link one or more notifications together. The Relations tab allows both draft or communicated notification to be linked together. Relationships allow notices to be grouped together but they do not update or trigger actions in FastDraft. This feature is configurable so may not be available on your instance of FastDraft. Contact our customer success team if you want it activated.
How to link related notices
Notices can be linked several ways through our platform to make it easy for users. You can either:-
Link notices already sent via the relations tab (retrospectively)
Link notices whilst you are creating another notice (mid workflow)
Create a related notification to an existing one
When enabled on your contracts, once a draft notification has been created - the Relations tab is now visible on the top right of notice. From the relations tab you can both group or link notices. This article explains how to link related notices. If you are trying to group notices around a building asset or section of the works than the tagging function is better suited to link to external objects. Related notices is only for link between other notices in the system.
Linking notices already sent via the relations tab

The below screen is then displayed.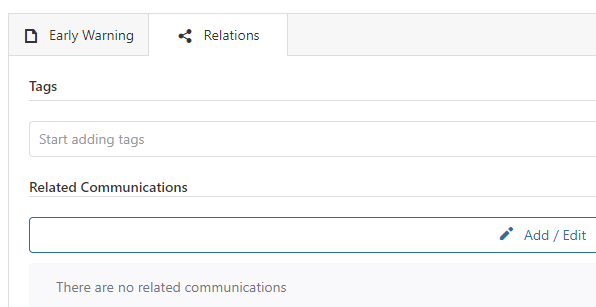 Click on Add /Edit button
Click on the workflow to search for the notification(s) to relate and select one or more on the right hand side.
Save changes

Once updated the Relations tab will now show how many notices are related to this one.
Clicking on the tab shows which notifications are related.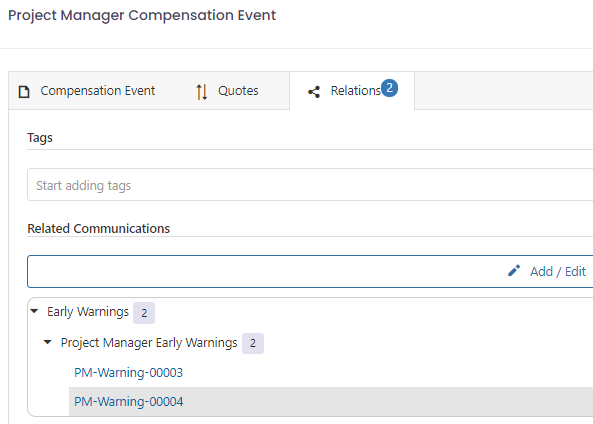 Once linked you can click between notices using the hyperlink.
How to update related items
Go to the Relations tab
Click on Add/ Edit button
Click on the workflow to update and select or deselect the notification(s) required on the right hand side.
Repeat for each workflow you wish to update.
Save changes
Create a related notification to an existing one
Open the notification you wish to relate. Depending on which workflow you are in, there is a choice of related notifications you can create.

The below example is from the early warning workflow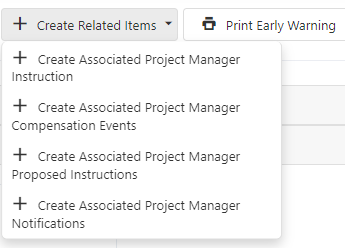 How to find related notifications in registers
The relations can be viewed on all the notification registers. To view them - add 'Relations' to your register via the column chooser.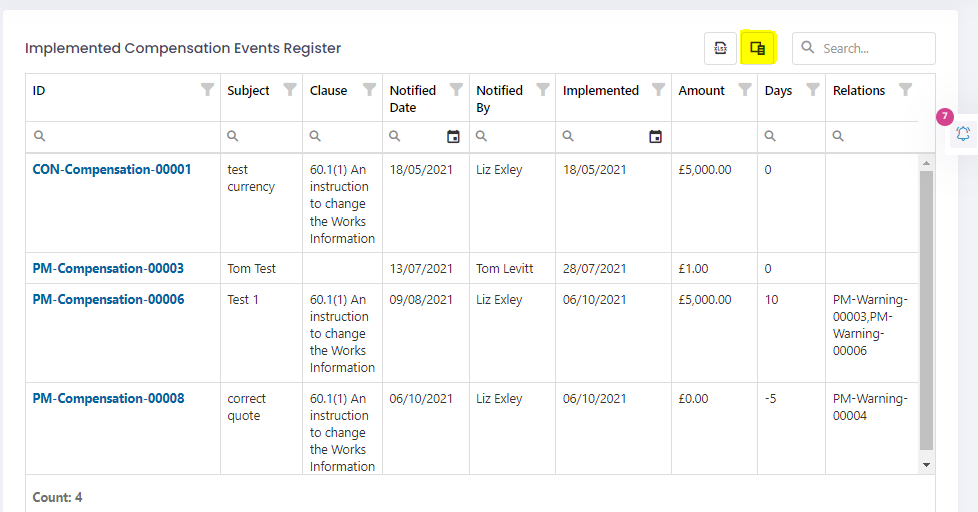 Linking notices whilst you are creating another notice mid workflow
Notifications can also be related when creating another notification e.g. mid workflow. This is really useful where the contract requires you to notice issues separately or issue an PMI and then CE under an NEC contract. For example:- The PM might be raising an early warning, but before they communicate it, they want to create another type of notification that is related to the early warning.
The below options are available;

All actions that involve communicating the notification are marked in green. Selecting 'Communicate & Create.... ' will communicate the Early warning and then present you with a screen to create a PM notification. Please consider whether you are actually going to communicate the related notification as creating the draft relates the two notifications, and the relationship cannot be removed.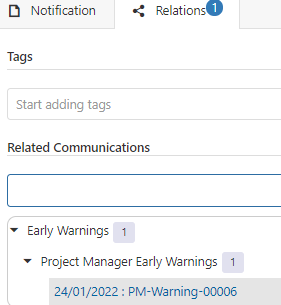 More than one related notification can be created this way against the Early Warning.
The type of related notification you can create this way depends on the original notification you are creating. For example, creating a PM Compensation Event enables you to either create a related PM Instruction or a PM notification.