We have created a new 'Access' User Filter. This has been added to the workflow editor which now makes it possible to optionally configure which party/role combinations can access each workflow on each contract (i.e. excluded parties/roles can't view forms of that type or see menu options). the below example shows .....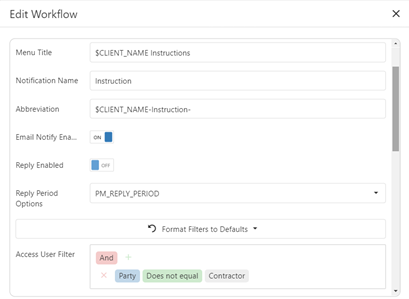 The above example shows that the Contractor would not be able to view the Client Instructions Workflow and its contents.
You should carefully consider all of your requirements (including any ramifications for existing workflows and existing users) before attempting to restrict access.
Always fully test your configuration in a test environment/contract before attempting to make use of the new Access user filter.
Be mindful of the following;
By default all workflows are visible to all users.
All existing workflows and all new workflows, including those designed for the purpose of one party communicating to another, will remain visible to all contract users unless specifically configured otherwise
Email notification filters are configured separately so those filters will need to be aligned in order to prevent users receiving email notifications for things they have no access rights to
Users with permissions managed by their system-level User Type (i.e. 'View All', 'View Own' and 'View All Hub') are not automatically assigned a contract-level party and/or role so permissions of those users are not governed by contract level filters. Those users will not have their access filtered and will continue to be able to see all communicated forms of all types irrespective of what's configured for each workflow in the contract template.