From any page within a contract the user is able to click on the blue notification icon on the right-hand side of the screen which will open up the outstanding action list.

This panel will display all the outstanding actions:-
for each Party,
the notice reference number,
subject line,
the date the action is due by,
a hyperlink to the notice for quick access and
a RAG status (Red, Amber or Green)
All all actions due less than 1 day are marked as red.
All actions due less than 7 days are amber
All actions greater than 7 days are green.
Again this panel is dynamic so only displays roles relevant to the contract type.

Any notifications and replies that have been raised in draft only are also shown at the bottom of the list. The content of the notification is only available to view if your party type matches the party type who raised the draft notice or reply.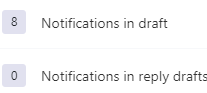 How to use RAG reporting
The RAG reporting can be used a couple of different ways to help support delivering contracts on time, to budget and to the right quality standards.
Project teams
The most common use of this report is by project teams to keep track of what needs doing today, this week and in the next fortnight. The split view between the Parties also quickly flags if a particular Party to the contract is struggling. Late decision making is the number one cause of project delays and it is common for construction projects to have lots of changes (read new decisions) due to the nature of the industry and inherent unknowns from ground conditions, design interfaces and weather conditions. We suggest that you monitor this closely and escalate issues quickly with the other side at progress meetings when they are AMBER to avoid delays. If you have a significant backlog of actions, you may also wish to escalate it with your line manager after speaking with the individuals concerned. With the average spend rate per week on a project being so high each day an action is overdue will be expensive for the project.
Framework managers and divisional team leads
The RAG reporting can also be a useful way of checking the health of the project at a glance, when managers need to understand the status of a project. The use of the RAG status on actions when combined with our Aggregated reporting, Health Check Report or API integration in to third party reporting tools, provide managers with the tools they need to spot the project that needs help before it's too late.